| | |
| --- | --- |
| Planina Blato - Debeli vrh (via planina Laz) | |
Starting point: Planina Blato (1147 m)
Destination: Debeli vrh (2390 m)
Path name: via planina Laz
Time of walking: 4 h
Difficulty: difficult pathless terrain
Difficulty of skiing: very demanding
Altitude difference: 1243 m
Altitude difference (by path): 1300 m
Map: Triglav 1:25.000
Hiking equipment (summer): helmet
Hiking equipment (winter): helmet, ice axe, crampons

Views: 33338
Trip rating: 7 votes
Number of pictures: 38
Number of comments: 19
Access to starting point:
We drive from Bohinjska Bistrica towards Stara Fužina. We come to a crossroads where we turn left at a chapel on the road rising steeply upwards. We soon come to a point where a toll payment is taken in summer season. Road rises steeply again and brings us to a meadow. A road going into a forest branches from this meadow and brings us to a crossroads. We go left here. We keep driving for some tome until we come to a crossroads for Vogar. We turn sharp right and keep driving couple of 100 metres till a parking lot on Blato mountain pasture.
Path description:
We continue on the road that branches off at the beginning of the parking place on the mountain pasture Blato and rises rapidly. After about 10 min we reach a crossroads, and go right in the direction of the mountain pasture in Laz. After a few steps we reach a crossing again and take a right. The path is now ascending gently and goes through the forest. After an hour and a half, a road leads right to Krstenica, but we continue forward. The path begins to descend here and we soon reach the pasture. We follow the marked path that gores over the Lazovški pass towards Vodnikov dom. It ascends gently at first through a small forest and passes in a sharp ascent as it leaves the forest. On Lazovški pass, we leave the marked path and follow a small path left. It leads us east from Debeli vrh. Rocky marks help us find the way (rocks on top of one another-like small men). The path goes over a ravine and rises on the south grassy slopes. We soon reach the crest and follow it till the first top of Debeli vrh. For many this is the end of the trip. If we wish, we can continue the journey to a few meter higher peak on the west side. But the path is difficult and dangerous. Fist it descends in to a ravine and makes a sharp ascent all the way to the top (includes climbing). Here, you must be very careful. The path that continues from here on is a bit lighter. We follow the wide crest to the top.
On the way: Planina v Lazu (1560m), Lazovški preval (1966m)
Recommended: similar trips, trips from the same starting point,
Share:

facebook

Twitter

myspace
Digg
delicious

reddit
Netlog
Pictures: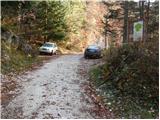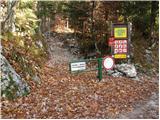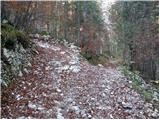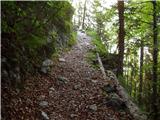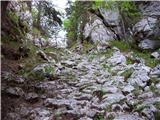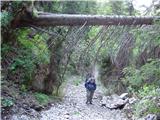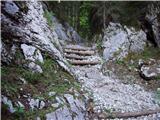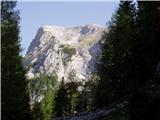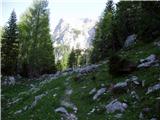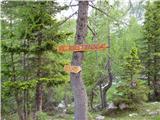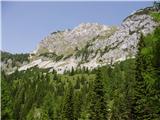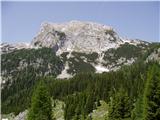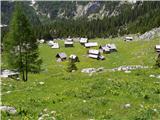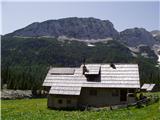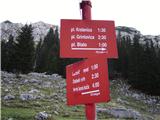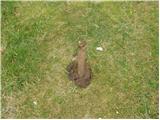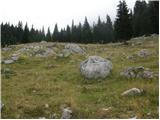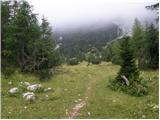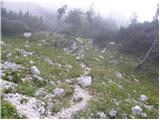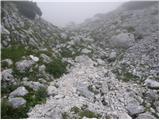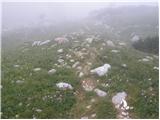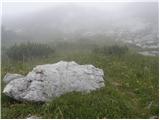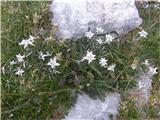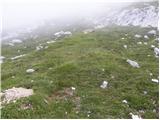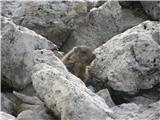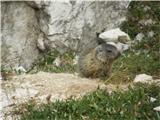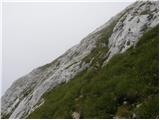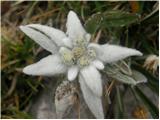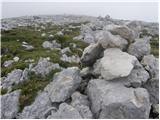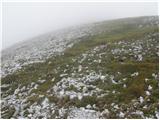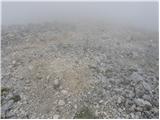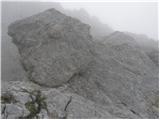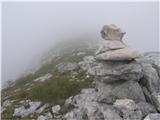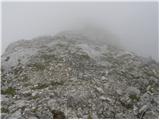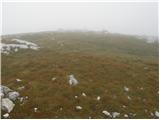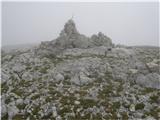 Video:
Copyright © 2006-2015
Privacy Policy
, Hribi.net, Mountaineering, Hiking, Trekking, Climbing