| | |
| --- | --- |
| Koča pod slapom Rinka - Orlovo gnezdo (Rinka waterfall) | |
Starting point: Koča pod slapom Rinka (1024 m)
Destination: Orlovo gnezdo (Rinka waterfall) (1120 m)
Path name: -
Time of walking: 0 h 15 min
Difficulty: easy marked way
Difficulty of skiing: easily
Altitude difference: 96 m
Altitude difference (by path): 96 m
Map: Kamniške in Savinjske Alpe 1:50.000
Hiking equipment (summer):
Hiking equipment (winter):

Views: 28437
Trip rating: 3 votes
Number of pictures: 6
Number of comments: 2
Access to starting point:
We drive to Luče (from Mozirje or over Kranjski rak) and continue driving towards Logarska dolina. We come to a crossroads after village Solčava. Road branches to left towards Logarska dolina. We turn left towards Logarska dolina valley (toll payment) and drive on the road till the parking lot underwater fall Rinka. We park there.
Path description:
From the parking lot we head down the slowly ascending turist path. After about 10 minutes of walking we come from the forest onto a fork. We turn right and climb the many steps to the Orlovo Gnezdo viewpoint of the falls.

Trip can be prolonged to next destinations: Dom na Okrešlju (1 h), Kranjska koča na Ledinah (3 h 30 min), Kamniška koča na Kamniškem sedlu (2 h 30 min), Bivak pod Mrzlim vrhom (2 h 45 min), Ledinski vrh (3 h 15 min), Vellacher Turm/Storžek (3 h 30 min), Velika (Koroška) Baba (4 h 15 min), Mrzla gora (4 h 15 min), Turska gora (4 h 15 min), Brana (3 h 30 min), Mala Rinka (4 h 15 min), Štajerska Rinka (4 h 30 min), Planjava (4 h 30 min), Koroška Rinka (4 h 45 min), Kranjska Rinka (4 h 50 min), Skuta (5 h)
Recommended: similar trips, trips from the same starting point,
Share:

facebook

Twitter

myspace
Digg
delicious

reddit
Netlog
Pictures: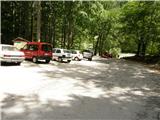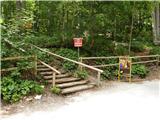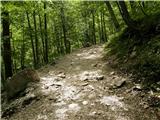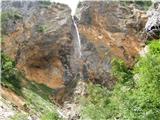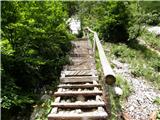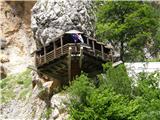 Copyright © 2006-2015
Privacy Policy
, Hribi.net, Mountaineering, Hiking, Trekking, Climbing