| | |
| --- | --- |
| Plajberški graben / Bleiberger Graben - Sinacher Gupf / Psinski vrh | |
Starting point: Plajberški graben / Bleiberger Graben (1000 m)
Destination: Sinacher Gupf / Psinski vrh (1577 m)
Path name: -
Time of walking: 1 h 35 min
Difficulty: easy marked way
Difficulty of skiing: partly demanding
Altitude difference: 577 m
Altitude difference (by path): 577 m
Map: Karavanke - osrednji del 1:50.000
Hiking equipment (summer):
Hiking equipment (winter): ice axe, crampons

Views: 5046
Trip rating: 3 votes
Number of pictures: 16
Number of comments: 1
Access to starting point (automatic translation):
From Slovenia: Zapeljemo to the border crossing Ljubelj and to the Austrian side. Soon after the left side of the road we see a smaller church left offs road towards the village Žabnica / Bodental. In the crossroads of the village Slovenia Plajberk continue straight in the direction of Strugarje / Strugarjach. Follow this road to the parking lot before the top marks for Psinski / Sinacher Gupf.
From Austria: First, zapeljemo in Ferlach / Borovlje in Klagenfurtu / Klagenfurt and pass on to Slovenia. When you get to the crossing, where it says Bodental / Žabnica right across the street. Next follows the above description.
Path description (automatic translation):
At the end of the parking lot of us focus on the mark right road, which zložno climbing up a flight of a grass slope. While walking on the road can be seen on the left side of our goal, which will be achieved per hour and a half walk. The road then us in a few minutes, leads to the chapel in which to sign a ban on further driving. The road, which is then slightly less zložno climbs us after 20 minutes of walking paths lead to a crossroads at Sedlu Vranjica / Orienzasattel. Here we continue on the left of the road, which after a few steps leave. The road is left up shed marked walking path to our goal. The path is then closer to a large forest utilization at which some time vzpenjamo. From the top of this cut, however, we opened a nice view on the part of the Drava Valley. The route then climbs some time for and having a wide forest poraščenem ridge, but not overly steep. When you move from the ridge route on the steep slopes are steep climb begins journey to the top of the mountain. Only a few steps below the top step of the forest and in front of you zagledamo Cross, which is located at the top of the mountain.
On the way: Sedlo Vranjica / Orienzasattel (1122m)
Recommended: panorama, similar trips, trips from the same starting point, trips with the same destination
Share:

facebook

Twitter

myspace
Digg
delicious

reddit
Netlog
Pictures: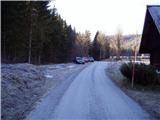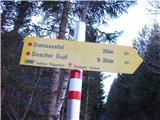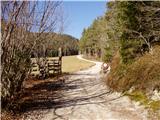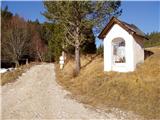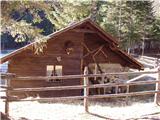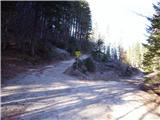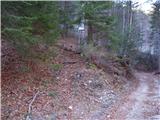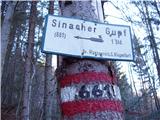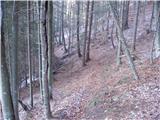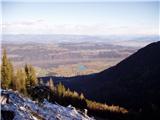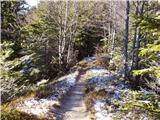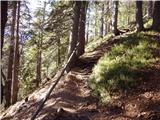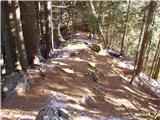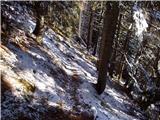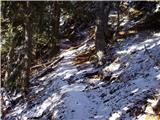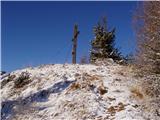 Copyright © 2006-2015
Privacy Policy
, Hribi.net, Mountaineering, Hiking, Trekking, Climbing