| | |
| --- | --- |
| Planina Blato - Koča na Planini pri Jezeru | |
Starting point: Planina Blato (1147 m)
Destination: Koča na Planini pri Jezeru (1453 m)
Path name: -
Time of walking: 1 h
Difficulty: easy marked way
Difficulty of skiing: easily
Altitude difference: 306 m
Altitude difference (by path): 306 m
Map: Triglav 1:25.000
Hiking equipment (summer):
Hiking equipment (winter):

Views: 55170
Trip rating: 7 votes
Number of pictures: 14
Number of comments: 8
Access to starting point:
We drive from Bohinjska Bistrica towards Stara Fužina. We come to a crossroads where we turn left at a chapel on the road rising steeply upwards. We soon come to a point where a toll payment is taken in summer season. Road rises steeply again and brings us to a meadow. A road going into a forest branches from this meadow and brings us to a crossroads. We go left here. We keep driving for some tome until we come to a crossroads for Vogar. We turn sharp right and keep driving couple of 100 metres till a parking lot on Blato mountain pasture.
Path description:
Just before the pasture, a cart track branches off on the parking place and goes steeply upwards. After 10 min, we reach a crossing and turn left. We follow a wide cart track all the way to the hut on the Pasture by the lake (Planina pri Jezeru) – has a winter room.

Trip can be prolonged to next destinations: Planina Blato (6 h), The lake Črno jezero (1 h 40 min), Dom na Komni (3 h 15 min), Planina Lopučnica (2 h 45 min), Planina Dedno Polje (30 min), Planina v Lazu (1 h), Planina Viševnik, Planina Ovčarija (1 h 15 min), Koča pri Triglavskih jezerih (2 h 15 min), Pršivec (1 h 30 min), Rigeljc (2 h), Stadorski Orliči (2 h), Vrtec (2 h), Visoka glava (1 h 30 min), Kovačičeva glava (1 h 30 min), The lake Jezero v Ledvicah (3 h 15 min), Rušnata glava (1 h 50 min), Bela glava (2 h), The lake Zeleno jezero (3 h 40 min), Vrh nad Vodeno Rupo (2 h), The lake Rjavo jezero, Kreda, Mala Tičarica (2 h 30 min), Zasavska koča na Prehodavcih (4 h 15 min), Mala Tičarica (2 h 30 min), Slatna, Velika Tičarica (2 h 50 min), Koča na Doliču (4 h 15 min), Prvi Vogel (3 h), Kopica (3 h 30 min), Srednji Vogel (3 h), Čelo (6 h 15 min), Mala Zelnarica (3 h 30 min), Malo Špičje (5 h), Velika Zelnarica (3 h 30 min), Zadnji Vogel (3 h 15 min), Veliko Špičje (4 h 45 min), Morbegna (5 h 55 min), Glava v Zaplanji (6 h), Kanjavec (4 h 45 min), Triglav (6 h 45 min)
Recommended: panorama, similar trips, trips from the same starting point, trips with the same destination
Share:

facebook

Twitter

myspace
Digg
delicious

reddit
Netlog
Pictures: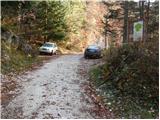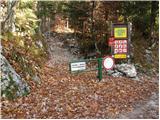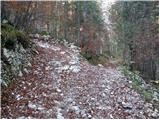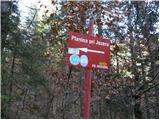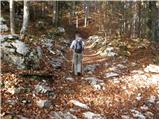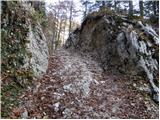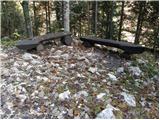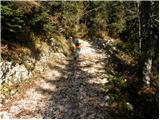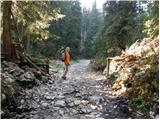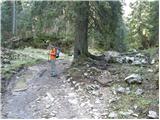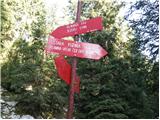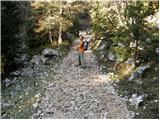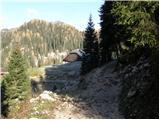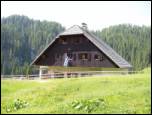 Copyright © 2006-2015
Privacy Policy
, Hribi.net, Mountaineering, Hiking, Trekking, Climbing