| | |
| --- | --- |
| Rifugio Gilberti - Sart / Žrd | |
Starting point: Rifugio Gilberti (1850 m)
Destination: Sart / Žrd (2324 m)
Path name: -
Time of walking: 3 h 15 min
Difficulty: partly demanding marked way
Difficulty of skiing: more demanding
Altitude difference: 474 m
Altitude difference (by path): 700 m
Map: Julijske Alpe - zahodni del 1:50.000
Hiking equipment (summer):
Hiking equipment (winter): ice axe, crampons

Views: 13971
Trip rating: 1 votes
Number of pictures: 34
Number of comments: 8
Access to starting point (automatic translation):
By Gorenjska over border crossing Rateče zapeljemo to Tarvisio / Tarvisio, and continued driving in the direction of Bovec. Just before Rabeljskim lake, however, turn right towards Nevejskega prevela / Sella Nevea. This road, which for most climbs to a large car park track at the bottom of the ski lift station, leading to the huts Gilbert. From the upper station of the ski lift to the huts Gilbert got 5 minutes walk on the road transport rescue. With the Primorske zapeljemo in Bovec, and then across the border crossing landscape. Immediately after the Rabeljskim lake, turn left towards Nevejskega Prevala. Next follows the above description.
Path description (automatic translation):
From huts slight drop (in the West) in less dolinico where the crossroads path. Proceed right in the direction of S. Grubia on the road, which runs between the central ridge KANINSKA on the left and the White pečjo on the right. The way forward is initially zložno climbs through the valley and then climb begins strmeje us and after a few minutes of ascent leads to the old military fortress on the coupling White oven. For the fortress continued slightly left in the direction of "bivacco" (Right White oven for 30 minutes a very difficult path) under the old military mulatjeri, which is already well destroyed. The path to be slightly lowered, and then climb again takes place on steeply sloping sites, which are sometimes slightly prepadna and exposed to declining kamenju (because the path is wide in the land is not a problem). The path then leads us to the crossroads where the left up the path to shed Visoki Kanin. Proceed as mulatjeri, which crosses to grap a few that are long in the summer covered with snow. Beautiful mountain path and viewing us after 2 hours walk from the huts Gilbert lead to bivaka Marrusich. Only a few steps from bivaka but come on PREVAL Peravo where the crossroads path. Continue straight in the direction of M. SART through the route, which starts climb to the west. Already soon be lodged and the path turns to the right north side Summit Grubij. Quite a level path then leads us on a beautiful lawn visokogorski (Škrbina in Senožeče), where leave mulatjero. Upswing continue to the right and, after feeling a visible way to achieve the reef, where we continue ascent. The way forward is steep climbing up a flight of cities slightly exposed ridge. After the half-hourly ascent, when you think that we are on top of it to get to predvrh RDI (in the fog many thought that this is the top), with which we opened a nice view to our goal. Followed by a slight descent down the barely visible path, which continue to be made at partially exposed ridge. Reef then the left side slowly extended and the way us for further rise of a few minutes to lead the top view.
On the way: Sella bela pec (2005m), Bivouac Marrusich (2041m), Škrbina v Senožečah (2131m)
Recommended: panorama, similar trips, trips from the same starting point, trips with the same destination
Share:

facebook

Twitter

myspace
Digg
delicious

reddit
Netlog
Pictures: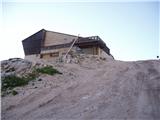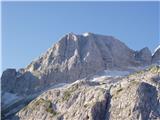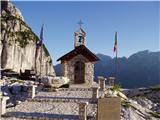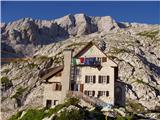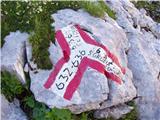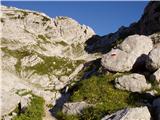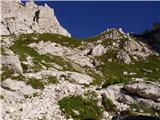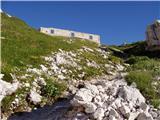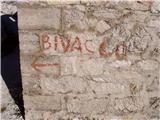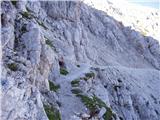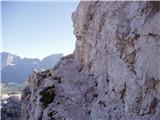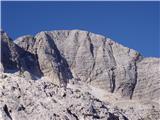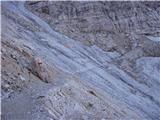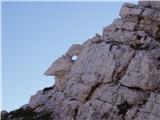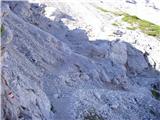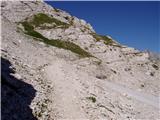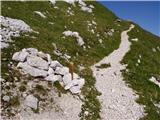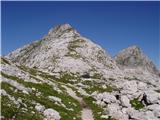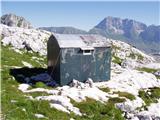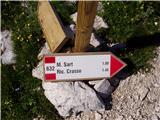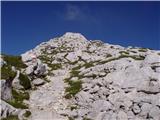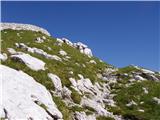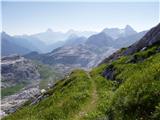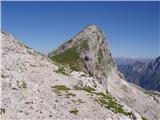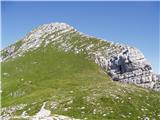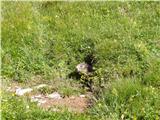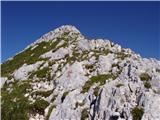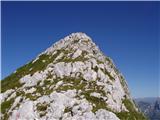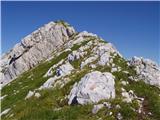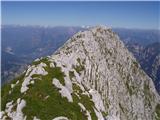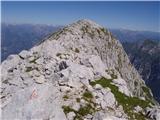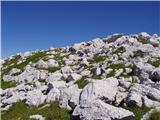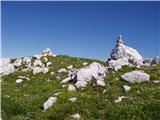 Copyright © 2006-2015
Privacy Policy
, Hribi.net, Mountaineering, Hiking, Trekking, Climbing