| | |
| --- | --- |
| Za Loncem - Tolsti vrh (Veža) | |
Starting point: Za Loncem (980 m)
Destination: Tolsti vrh (Veža) (1985 m)
Path name: -
Time of walking: 3 h 35 min
Difficulty: easy unmarked way
Difficulty of skiing: demanding
Altitude difference: 1005 m
Altitude difference (by path): 1005 m
Map: Kamniške in Savinjske Alpe 1:50.000
Hiking equipment (summer):
Hiking equipment (winter): ice axe, crampons

Views: 5971
Trip rating: 2 votes
Number of pictures: 25
Number of comments: 1
Access to starting point (automatic translation):
Access from the Light: The Luče is focusing on the road in the direction of Kamnika and to follow the road past the inn Gams and across the bridge to the river's White LED. Only a few dozen meters for the bridge is the right road to the valley shed lights of the White. Take this road and follow it to parking lots on the labels of Korošica 3:30. Access from Kamnika: On the Kamnika zapeljemo in Stahovico and towards Pass Črnivec. Just before prelazom is hard left to shed road Carniola Cancer. Focusing on that road which leads to the pass in Carniola Cancer. Next is focusing in the direction of light and continue the journey by road, which descends. When the road leads us into the valley will be on the left side of the road observed signposts on Korošico. Take this road and follow it to parking lots on the labels of Korošica 3:30.
Path description (automatic translation):
The parking lots are focusing on the path towards Korošica. Initially Lozna wide and the way we will soon reach the steep slopes, where the route climbs strmeje. The path that climbs through the forest slightly higher crosses less JASO, where steep discounts for a short period. The path is then reintroduced into the woods, where crosses and the torrent of this sharply vzpne. Slightly higher, we opened a beautiful view of the harbor and cast Konju. The way forward rušje slowly moves between where to come to a small crossroads on the door. Continue straight in the direction of Korošica initially slightly down (the right path crosses exposed slopes below Lastovcem). Even after a couple of steps us the path of intermittent leads to the lake at the old barn. You can often see the lake next to a group of svizcev which podijo Monday grassy slopes. The way forward shall resume moderate climb and we will soon lead to Potočki, which is among the highest in Slovenia. Stream has a few minor slapičev, which at this height come especially to the term. Slightly higher us the way, which is still ongoing between rušjem path leads to a crossroads where we continue in the right direction Vodotočnika (left Korošica). The way forward is still some time grassy slopes climbing up a flight of surrounded by rušjem to the place where, under another zagledamo Jezerce. Followed by only a few steps downhill Monday grassy slope to the lake. From the lake we continue following the unlabelled path to a saddle between the thick top of the left and the board on the right. After ten minutes walk on a grassy slope surrounded by rušjem us the path that leads to the saddle, where we continue up the left. There is a steep path and vzpne us for further ten minutes leads to the top.
On the way: Šibje (1210m), Vratca (1655m), Stare Štale (1640m), The lake Vodotočno jezero (Veža) (1850m)
Recommended: panorama, similar trips, trips from the same starting point, trips with the same destination
Share:

facebook

Twitter

myspace
Digg
delicious

reddit
Netlog
Pictures: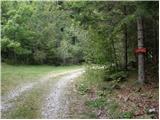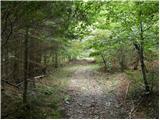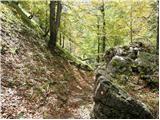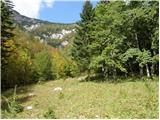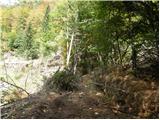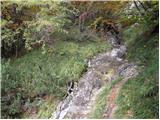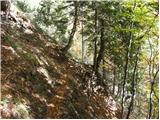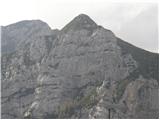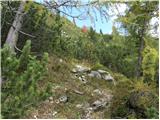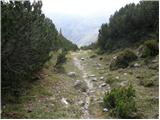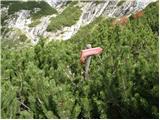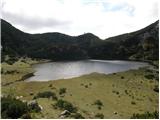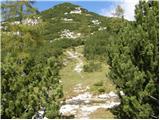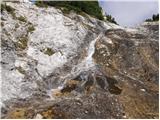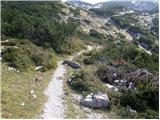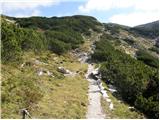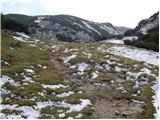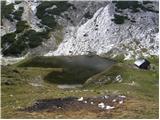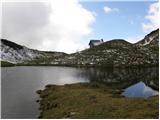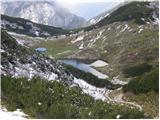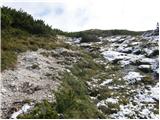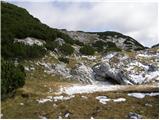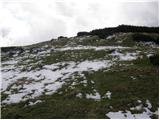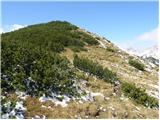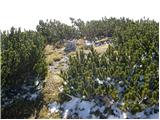 Copyright © 2006-2015
Privacy Policy
, Hribi.net, Mountaineering, Hiking, Trekking, Climbing