| | | | | | | | | |
| --- | --- | --- | --- | --- | --- | --- | --- | --- |
| Klopni vrh | | | | | | | | |
Views: 439678
Popularity: 84% (469th place)
Number of paths: 3
Number of GPS tracks: 1
Description of mountain (automatic translation):
Klopni top of the north-west side closed lower ležečo extensive plateau in the eastern Pohorje. Horizontal surface of the cross at a height of 1300 m is substantially lower than the same high Miznega summit, which is located south-east of the Tick-borne summit, probably stems from the importance of names.
Top of the woodland and therefore without a view, is located at the top of registration book, the stamp is based in Koči at the top of Steklina. .
Webcams in radius of km:
Areh, Grmovškov dom pod Veliko Kopo, Hočko Pohorje, Kope, Lovrenc na Pohorju, Mariborsko Pohorje, Ribnica na Pohorju, Ribniško Pohorje, Rogla, Rogla (apartmaji Dandi – Jurgovo), Rogla (Hotel Natura), Rogla (Mašin Žaga), Sveti Trije Kralji (Pohorje), Terme Zreče, Vurmat, Zgornja Kapla
Share:

facebook

Twitter

myspace
Digg
delicious

reddit
Pictures: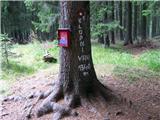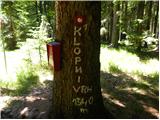 Copyright © 2006-2015
Privacy Policy
, Hribi.net, Mountaineering, Hiking, Trekking, Climbing