| | | | | | | | | |
| --- | --- | --- | --- | --- | --- | --- | --- | --- |
| Sveti Ahac (Kališe) | | | | | | | | |
Views: 210498
Popularity: 56% (1343th place)
Number of paths: 0
Number of GPS tracks: 0
Description of mountain (Slovenian language):
Cerkev sv. Ahaca, se nahaja na razgledni vzpetini zahodno od vasi Kališe. Od cerkve oz. njene bližnje okolice se nam odpre lep razgled na pobočja od bližnje Velike planine pa do Menine planine.
Surroundings within radius of
km:
Webcams in radius of km:
Blagovica, Črnuški dom na Mali planini, Dom na Kisovcu, Domžalski dom na Mali planini, Jarški dom na Mali planini, Kamniško sedlo, Kokrsko sedlo, Kompolje, Krtina, Krvavec, Krvavec (vrtljiva kamera), Limbarska gora, Moste pri Komendi, Prelaz Črnivec, Radomlje, Rzenik in Konj, Sveti Primož nad Kamnikom, Velika planina (Mali stan), Velika planina (pastirsko naselje), Velika planina (Zeleni rob), Velika planina (zgornja postaja nihalke), Veliki Zvoh, Vir pri Domžalah, Želodnik
Share:

facebook

Twitter

myspace
Digg
delicious

reddit
Panorama:

Pictures: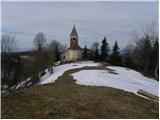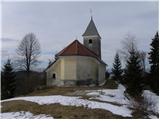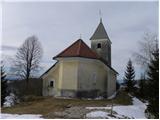 Hiking Trips:

Time
Difficulty
No data about trips.
Copyright © 2006-2015
Privacy Policy
, Hribi.net, Mountaineering, Hiking, Trekking, Climbing