Pig (Sus scrofa domestica)
Description of animal (automatic translation):
Pig, pig or pig are three names for the same kinds of animals. A pig is a domesticated animals, which kept him around the world, in the summer time and it is often observed in Alpine pastures. From pig makes all unknown pork. Said the young pig sucking. .
Pictures: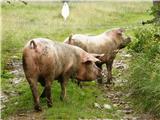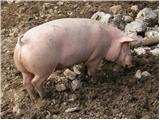 Video:
Copyright © 2006-2015
Privacy Policy
, Hribi.net, Mountaineering, Hiking, Trekking, Climbing