| | |
| --- | --- |
| Weißenbach - Spitzegel / Negal (via Bodenalm) | |
Starting point: Weißenbach (960 m)
Destination: Spitzegel / Negal (2119 m)
Path name: via Bodenalm
Time of walking: 4 h 30 min
Difficulty: difficult marked way
Difficulty of skiing: no data
Altitude difference: 1159 m
Altitude difference (by path): 1220 m
Map:
Hiking equipment (summer):
Hiking equipment (winter):

Author: Pi_is_exactly_3
Views: 237
Trip rating: 1 votes
Number of pictures: 101
Number of comments: 0
Access to starting point:
A small village Weißenbach (postal no. 9714) in Austrian state of Carinthia is a starting point. To get there, leave the highway section Villach - Spittal an der Drau at exit Paternion. After that there are two options. First, via Stockenboi and then after a few kilometers follow the sign Farchtensee and turn left (right or straight is a lake Weißensee), drive a few minutes more and park. Second option is via Kreuzen and lake Farhtensee to the starting point. The starting point is recognized by a small crossroad with many sings in plain sight (e.g. Fischeralm, Bodenalm, Jausenstation). Park by the road on the other side from the signs and a few meters down the road.
Path description:
Take a turn from regional road to the road following the stream slightly upwards to the mountain pasture Fischeralm (follow the signs Fischeralm, Bodenalm or Jausenstation). After that follow the dusty road, cross a boom gate, and follow the signs to the Fischeralm (sometimes spelled also as Fischer Alm).

Pass the hut Jausenstation on the left and follow the road west for 40 minutes to the Bodenalm mountain pasture (sometimes spelled also as Boden Alm). You will pass some sites that remind the visitors of a rich history of glassmaking in this area centuries ago.

Turn left just before Bodenalm (when you see a hut) and follow the slowly ascending dusty road. You will then pass a boom gate. The road ascends further. Turn right when you see markings for Radnigeralm (and a trail number 25c). A moderately steep trail leads through the forest until it reaches a Radniger mountain pasture

Continue east, the path will soon gain some altitude (i.e. path no. 247), then it will merge with a dusty road. Follow the road for a few moments, then turn left at well marked spot. Ascend the mountain pastures to the north side of the mountain Möschacher Wipfel, 1911 m. A path disappears in some sections and it is clearly visible only where it traverses the northern slopes of Möschacher Wipfel. After crossing the slopes, the other side soon offers sights to the Obervellacheralm. A hut also stand on this mountain pasture. The name of the hut is Ladinzenhaus.

The path continues east via the slopes above the hut. The larch forest is soon replaced by pine bushes. The path continues to gain altitude while it leads east. Soon you will traverse some grassy slopes, and after that the rocky terrain is reached. The steep and technically difficult part will await you in the last 50 meters of altitude. After scrambling through this section, the path leisurely reaches the summit. A summit cross is set on the top, a summit book and a stamp are also available.

Timeline: Fischeralm (40 min), Bodenalm (1 h 20 min), Radnigeralm (2 h 10 min), Obervellacheralm (3 h), Spitzegel / Negal (4 h 30 min).
On the way: Fischeralm (1084m), Bodenalm (1231m), Radnigeralm (1558m), Zgornja Belška planina / Obervellacheralm (1712m)
Recommended: similar trips, trips from the same starting point, trips with the same destination
Share:

facebook

Twitter

myspace
Digg
delicious

reddit
Netlog
Pictures: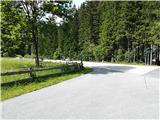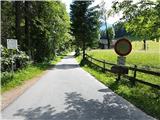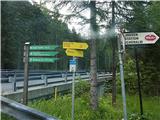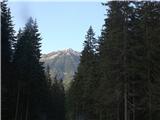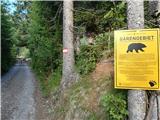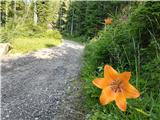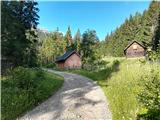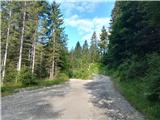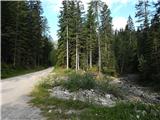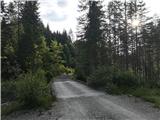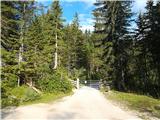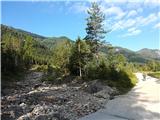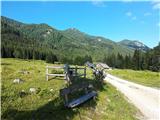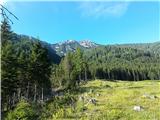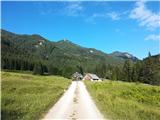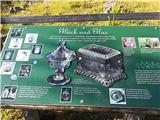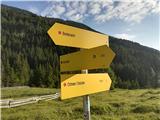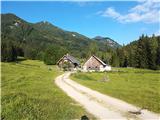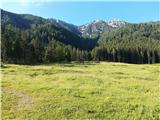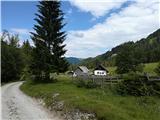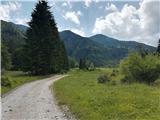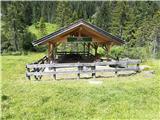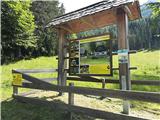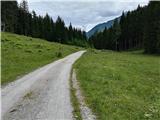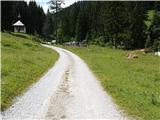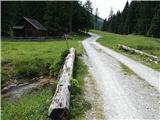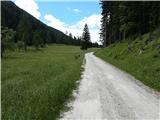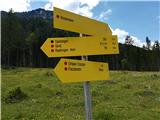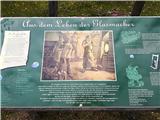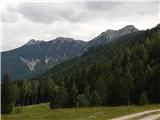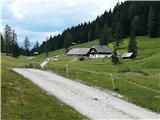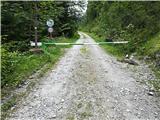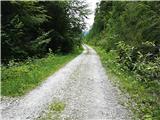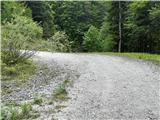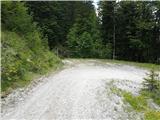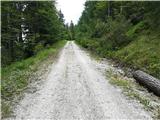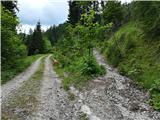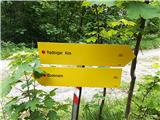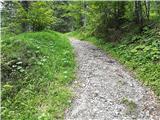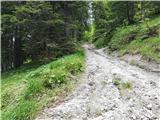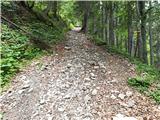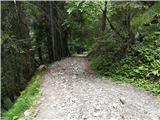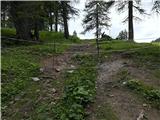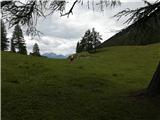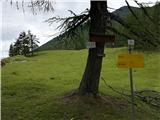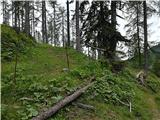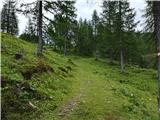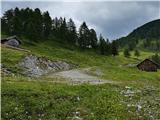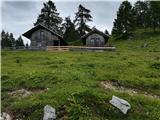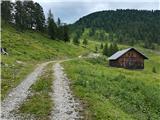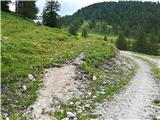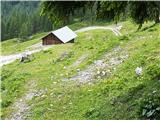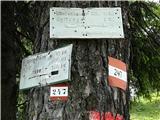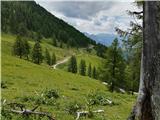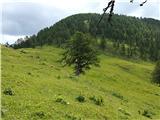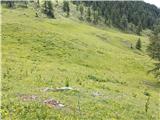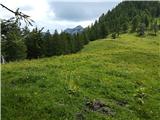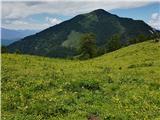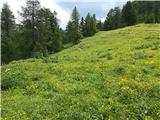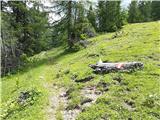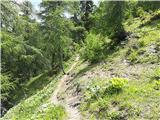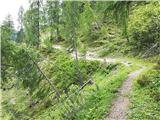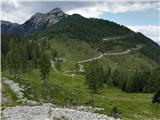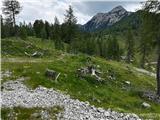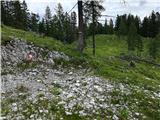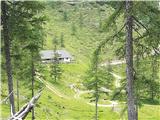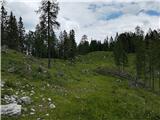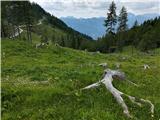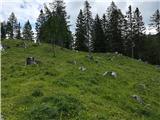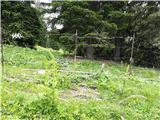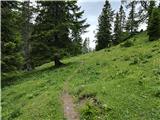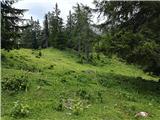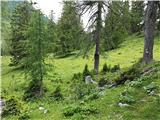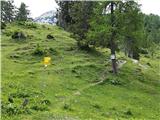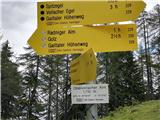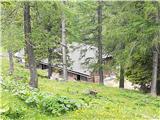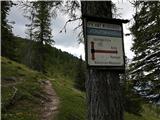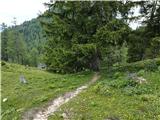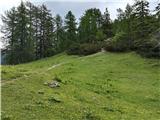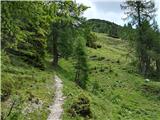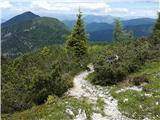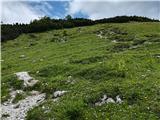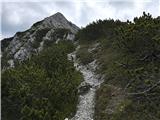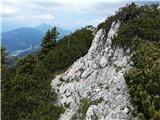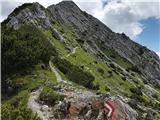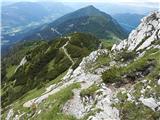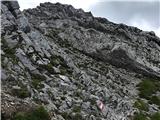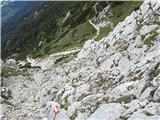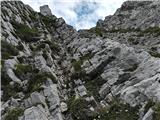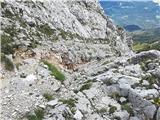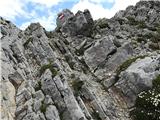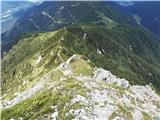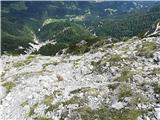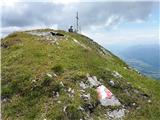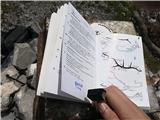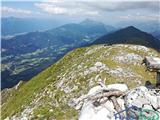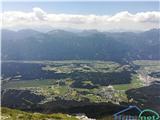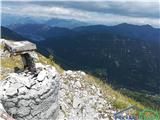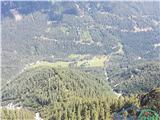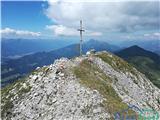 Copyright © 2006-2015
Privacy Policy
, Hribi.net, Mountaineering, Hiking, Trekking, Climbing